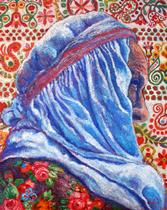 "If I can capture some of the joy and beauty of the world around us, I believe I have been successful. The objects of my study are landscapes of the beautiful Pacific Northwest and its flowers, its people, and people from my native Hungary. Occasionally, I work non-objectively, letting colors and shapes emerge on canvas at their own bidding."
Based in Anacortes, Washington, Alice Kapka has painted and taught for many years. She has exhibited her work throughout northwest Washington. Come and see her work online.
I am now creating commissioned portraits. Examples can be seen by selecting the "figures/portraits" ikon. Please contact me if you would like your portrait in pastels.